100-Day Countdown to 2014 Season
We're counting down 100 days to the 100th Anniversary Season of Florida Spring Training coming to Florida as we know it today. We'll start with the basics and work our way to the week of February 24, 2014 with facts about Florida Spring Training Baseball.
Fans of Florida Spring Training Baseball, feel free to share these facts with others when you attend games in March. Enjoy and we'll see you at the ballparks.
Day 79 of 100 Day Countdown - 21 Remain - February 4
The following is a 2012 article, "Southwest Florida's all-time best Spring Training team," by Scott Botherus of the Naples News
As Tamiami Trail was being constructed in the mid-1920s,connecting Miami to Tampa, it brought baseball with it. The new road made travel between the spring training hotbeds of the era in Fort Lauderdale and the greater Tampa Bay area easier and naturally Lee County, as the midway point between the two, become an ideal setting for a big-league team as well.
Connie Mack, the owner-manager of the Philadelphia Athletics, was the first to recognize the potential of Southwest Florida as a spring training destination, and brought his team to train among the palm trees and warm weather beginning in 1925.
Over the years, the Cleveland Indians, Pittsburgh Pirates, Kansas City Royals,Minnesota Twins and Boston Red Sox have all held their annual spring rituals here.
In honor of baseball in Southwest Florida, here are the greatest players of all time to sit in the home team's dugout:
FIRST BASE — Jimmie Foxx
One of the greatest sluggers in baseball history, Foxx was part of every Philadelphia camp in Fort Myers from 1925-1935. The Hall of Famer led the league in home runs three times after spending his spring in the Florida sun (1932, '33 and '35) and finished with 534 HRs.

SECOND BASE — Dustin Pedroia
Fort Myers is the only spring home the scrappy second baseman has known in his big-league career. Since breaking in with the Red Sox in 2006, Pedroia won the AL rookie of the year, the league's MVP award in 2008 and been a part of two World Series Championships.

THIRD BASE — George Brett
The greatest player in Royals franchise history, Brett spent his springs at Terry Park from 1973-1987, including the lone World Series in 1985. Brett, a 13-time All-Star and member of the 3,000 hit club, finished his Hall of Fame career with a .305 batting average and 317 HRs.
SHORTSTOP — Nomar Garciaparra
From 1996-2004, Nomar arrived to City of Palms Park to get in shape for the regular season. The Red Sox shortstop was elected to five AL All-Star teams during that span and had two of his best seasons, in 1999 and 2000, in which he batted .357 and .372, respectively.

LEFT FIELD — Mike Greenwell
Fort Myers' prodigal son returned home for spring training from 1993-96. A graduate of North Fort Myers HS, Greenwell had one of his best years in 1993, his first season of spending his spring training at home, when he batted .315 with 15 HRs and 72 RBIs.

CENTER FIELD — Kirby Puckett
From 1991-95, Puckett patrolled center field at Hammond Stadium every March. Always a fan favorite, Puckett made the All-Star team 10 of his 12 seasons in the majors.

RIGHT FIELD — Roberto Clemente
Clemente arrived in Fort Myers with the Pirates as a 20-year-old rookie in 1955, and returned every year until the Pirates moved to Bradenton in 1968. The Hall of Famer finished with 3,000 hits, a .317 average and was one of the best defensive right fielders of his era.

CATCHER — Mickey Cochrane
Cochrane first arrived in Fort Myers in 1925 as a 22-year-old rookie catcher for the A's and until 1933, he spent every spring of his Hall of Fame career in Fort Myers. He finished his 13-year career with a .320 batting average and was twice named the AL MVP.

STARTING PITCHER — Lefty Grove
Grove was one of four future Hall of Famers who were part of the A's first spring training in Fort Myers in 1925. The lanky southpaw was one of the most dominant pitchers in baseball history. He led the league in ERA for nine seasons and finished with a 300-141 record.

STARTING PITCHER — Bob Feller
A member of the Indians when they trained in Lee County in 1940-41, "The Rocket" had two of his most effective regular seasons, going 52-24 with a 2.84 ERA and 521 strikeouts during that span. Feller won 266 games in his career and was inducted into the Hall of Fame in 1962.

CLOSER — Dan Quisenberry
The Royals' sidewinding closer could be found hanging out in the bullpens of Terry Park from 1979 to 1987. During that span, Quisenberry led the league in saves five times.

Day 72 of 100 Day Countdown - 28 Remain - January 28
It was 1924 and the small town's desire to build a field of dreams and lure major league baseball in Sarasota was not so much a wish for the sport of baseball as it was a means of garnering national publicity.
Big league teams were accompanied by a cadre of syndicated writers who reports were avidly read by baseball fans around the country at a time when the sport was the undisputed national pastime.
City officials counted on those writers to be impressed with Sarasota's beauty and lavishly praise the Gulf Coast Paradise, dubbed in in The Sarasota Times as the Riviera City.
After three false starts - accepted and rejected by the Chicago White Sox, Philadelphia Athletics and New York Yankees - circus magnate John Ringing approached the storied John J. McGraw, manager of the mighty New York Giants about bringing the team to town. The Giants were one of the power house teams of the era, World Series winners in 1921 and 1922 and National League Champs in 1923.
When the Giants began arriving at the end of February 1924, Sarasota had more in common with its turn-of-the-century past than with its snowbird future. One player lamented you could fire a cannon down Main Street and not injure anyone. That would soon change as Sarasota went fast-forward into a city teeming with wealthy snowbirds - a change credited to Ringling and McGraw.
Day 71 of 100 Day Countdown - 29 Remain - January 27
(Condensed version of Tom McEwen Column, originally printed February 24, 2009) This tribute affair has been on and off since it all started a couple of years before World War II with baseball people and sportswriters and radiocasters in an organized drinking and jawing party at the old Tampa Terrace hotel in Downtown Tampa under the supervision of the bartenders at the Terrace Bar.

The writers of the 40s, 50s and into the 60s, favored the Terrace for key reasons. One, they could be helped to their rooms, the bar was open until all had left, been thrown out or passed out, because Western Union was around the corner to press rate their stories north, east and west, because early on there was a late afternoon flight to New York to carry film there.

So, all those years ago, Terrace managers and/or bartenders decided to have a little whing-ding for the writing and radio crowd at the Terrace, and they did, and they kept doing it until Tampa realized it was a good idea. Did it for years with the Chamber, got tired, gave it up to St. Petersburg, got tired, let Orlando have it, and then Lakeland, when Charlie Crist revived it when his hometown St. Pete wanted to do it again.

The Baseball Dinner has waxed dandy, okay and a bummer. The smaller, intimate ones were well attended by writers, casters, owners, execs and players. Joe Garagiola emceed one, Ralph Kiner one, Red Mitchum one, Lindsey Nelson one. Governors have come much of the time. Claude Kirk was a regular, Bob Graham was there often, Lawton Chiles, LeRoy Collins as well. At one, Howard Collee's introduction of Gov. Fuller Warren went on so long, Frank Grayson of the old NEA weekly network yelled, "shut up and let the man speak for himself!'' It worked.
Day 68 of 100 Day Countdown - 32 Remain - January 24

Pittsburgh Pirates and Baltimore Orioles single game tickets go on sale, Saturday, January 25, at 10 a.m. The final two teams with single game tickets going on sale, on February 1, are the Houston Astros and Washington Nationals.
Day 67 of 100 Day Countdown - 33 Remain - January 23
One of the pre-Spring Training events going on at Florida Spring Training venues over the next couple of weeks are Fantasy Camps. This week is official Boston Red Sox Fantasy Camp at Jet Blue Park in in Fort Myers. The camp, which runs through January 27, allows participants to train at the official Red Sox spring training complex, use the same facilities as the team and play on the field at JetBlue Park. Red Sox greats like Luis Tiant, Mike Timlin, Trot Nixon, Butch Hobson and many more coached the attendees throughout the week while Wade Boggs, Joe Castiglione, Tim Wakefield and Ryan Lavarnway made special appearances. Also hosting Fantasy Camps in Florida this week are the Atlanta Braves and St. Louis Cardinals. Upcoming Fantasy Camps will be held by the Minnesota Twins, Detroit Tigers, Baltimore Orioles, Pittsburgh Pirates,
Day 59 of 100 Day Countdown - 41 Remain - January 15
Five teams have held spring training in Florida each year since 1946 when travel restrictions were lifted after World War II. From 1942-46, in order to free up space on railroad lines carrying troops and supplies for World War II, teams were prohibited from training south of the Potomac and Ohio Rivers or west of the Mississippi River.
Atlanta/Milwaukee/Boston Braves - Ft. Lauderdale (1946-47); Bradenton (McKechnie Field, 1948-62); West Palm Beach (West Palm Beach Municipal Stadium, 1963-97); ESPN Wide World of Sports Complex - Disney (Champion Stadium, 1998-2014)
Detroit Tigers - Lakeland (Henley Field Ball Park, 1946-65); Lakeland (Joker Marchant Stadium, 1966-2014)
Minnesota Twins/Washington Senators - Orlando (Tinker Field, 1946-90); Lee County, Fort Myers (William Hammond Stadium, 1991-2014)
Philadelphia Phillies - Miami Beach (1946); Clearwater (Jack Russell Stadium, 1947-2003);
Clearwater (Bright House Field, 2004-14)
St. Louis Cardinals - St. Petersburg (Al Lang Field, 1946-97); Jupiter (Roger Dean Stadium, 1998-2014)
Day 57 of 100 Day Countdown - 43 Remain - January 13
This is the third offseason as a substute teacher for the 6-9 Alex Meyer, 23, a former Indiana Mr. Baseball who was selected 23rd by the Washington Nationals in the first round of the 2011 draft. He played three college seasons at Kentucky before signing a reported $2 million contract. He will report to the Twins' spring training camp at Fort Myers, in February and could be assigned to the Triple-A affiliate at Rochester, N.Y. (Rochester plays in Indianapolis Aug. 7-10.) If he makes the majors and the Twins improbably reach the playoffs, he could be pitching in October and subbing in November.
A year ago, he was traded to the Minnesota Twins and ranked their fourth-best prospect by Baseball America before throwing a pitch in the organization. He had a 3.21 earned run average in 70 innings for Double-A New Britain then was rated the No. 4 prospect in the postseason Arizona Fall League, which is for the best minor leaguers in baseball after compiling a 3.12 ERA with 28 strikeouts in 26 innings.
Day 54 of 100 Day Countdown - 46 Remain - January 10
The three recent Hall of Fame inductions, Tom Glavine, Greg Maddux and Frank Thomas, combined for 44 seasons in the Florida Grapefruit League. Glavine reported to Florida for all of his 22 seasons (1987-2008) in the Major Leagues as a member of the Atlanta Braves and New York Mets. Maddux spent 11 seasons (1993-2003) in West Palm Beach and Disney's Wide World Sports while member of the Braves. While a member of the Chicago White Sox, Thomas reported for Spring Training in Plant City for nine seasons (1990-98) and two seasons (2007-08) with the Toronto Blue Jays in Dunedin.
Day 51 of 100 Day Countdown - 49 Remain - January 6
Seven teams will put individual game tickets on sale this week beginning Wednesday, January 8, with the Toronto Blue Jays in Dunedin. The Philadelphia Phillies will make individual game tickets available at Bright House Field in Clearwater on Thursday, January 9. The New York Yankees follow on Friday, January 10 for their games at Steinbrenner Field in Tampa. Finally, on Saturday, January 11, the Detroit Tigers, Miami Marlins, Minnesota Twins and St. Louis Cardinals will have tickets on sale. Best of luck to all fans looking to buy Florida Grapefruit League tickets between February 25 and March 29.
Day 48 - January 3 (From a 2011 article on ESPN.com)
In the past 10 years, 88-year-old Louise Ellington has missed only one Detroit Tigers spring training game in Lakeland. That one absence was because she was in the hospital and her doctor wouldn't let her leave. As a compromise, he did agree to give her a hospital room where she'd be able to see the lights of Joker Marchant Stadium, where the Tigers hold spring training.
Baseball is what drew Ellington to Lakeland in the first place. She lived in Springfield, Ill., and chose to move because Lakeland had baseball most of the year, she said. And now Ellington has become a staple at Tigers spring training. She even recently purchased bicycles for the players on the team who can't drive.
And she doesn't miss a game.
"Every night, before I go to sleep, I look [at the schedule] to see if I get up early the next day or get to sleep in," she said.
Ellington is just one of the many fans who are as much of a mainstay at spring training as the players. In 1968, Bath, N.Y., residents Judy and Allen Swan, who are 69 and 72 respectively, were looking for a vacation spot.
"Lakeland was the cheapest place with a ballgame," Allen said.
So, in the spring of '68, the pair headed down to Lakeland and had such a great time watching baseball that Lakeland became their permanent vacation spot. And every year they'd buy tickets to see the Tigers in action.
Finally, a few years ago they invested in a house in Lakeland and now live there six months out of the year. They're such avid Tigers spring training fans that the couple has become close with the other fans in their section.
Day 44 - December 30
It's December 30 and we're already getting 2014 Previews. The talk today is the St. Louis Cardinals, who have little work left to do before players and staff members descend upon Jupiter for the start of another season. When they do, they'll find a new face at shortstop (Jhonny Peralta), another option in center (Peter Bourjos) and a veteran (Mark Ellis) ready to provide value on and off the field. But there will be absences, too, most notably with Chris Carpenter, David Freese and Carlos Beltran having moved on. The defending National League champions are pleased with their core and content that their winter shopping is done. Yet questions do remain heading into 2014. READ MORE
Day 24 - December 10
In the years immediately preceding the great Florida boom of the 1920s, offering a major league training site became an essential part of the high-stakes competition for tourists and winter residents. At one time or another, nearly every Florida city tried to acquire a spring training franchise, but no community devoted more time and effort to the baseball bidding wars than Al Lang's St. Petersburg.
Day 23 - December 9
The first inductions announced for the 2014 Baseball Hall of Fame included three managers who began seasons in Florida Spring Training while leading the team to a World Series title. The committee unanimously elected Joe Torre, Tony La Russa and Bobby Cox, the three most successful managers of their generation and shepherds of a combined eight World Series champions.
La Russa, led the 2006 St. Louis Cardinals to the World Series while Cox piloted the 1995 Braves to a championship. Torre led New York Yankees' dynasty of the late '90s to four in five seasons (1996, 1998-2000) and also won in 2009.
Day 17 - December 3
With the majority of Florida Spring Training games being played on weekdays with a 1:05 p.m., first pitch, Palm Beach County writer Stephen Brown suggested in a 2012 article for baseball fans to "Call in Sick for a Spring Training Game." His hometown team of the St. Louis Cardinals is the perfect excuse to call in sick. "Sitting next to a Cardinals fan is a joy. Strike up a conversation and you'll walk away with more info on the Cardinals history, current players and prospects than any ESPN analyst could give you in the same time frame. An afternoon game at Roger Dean is like going to a party with a baseball game thrown into the mix.
Day 16 - December 2 - Going retro with this 1970 Florida Spring Training ad by the Florida Department of Commerce.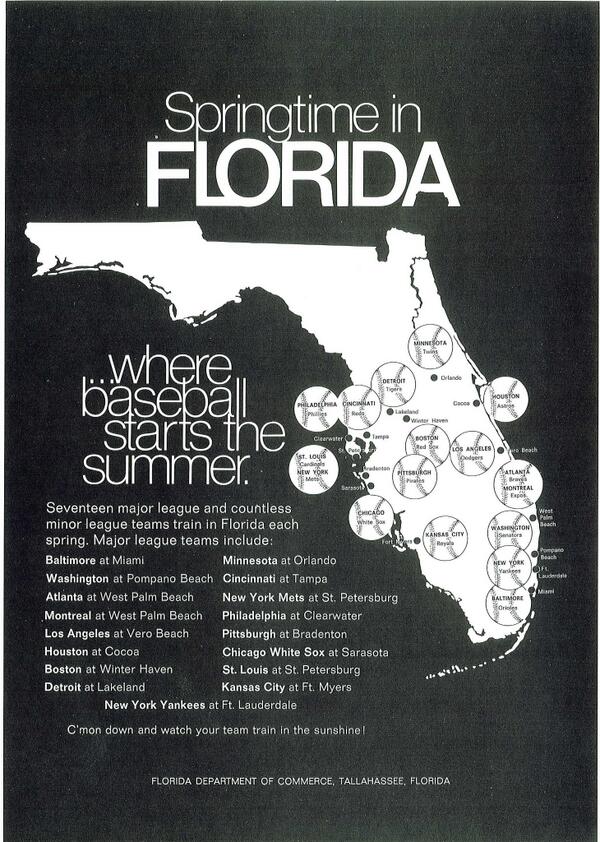 Day 13 of 100 - November 29
The 2013 World Series between the St. Louis Cardinals and Boston Red Sox was the first between two teams starting the season in Florida Spring Training since 2009. The New York Yankees defeated the Philadelphia Phillies in the 2009 Fall Classic.
Day 11 of 100 - November 27
Florida Auto Exchange Stadium has seen every player in the history of the Blue Jays organization come to Dunedin for Spring Training, as it's been the only Spring home for Toronto since the expansion team started up in 1977.

Day 10 of 100 - November 26
In the New York Yankees camp, sometimes the biggest attractions won't be found in the starting lineup. Serving as guest instructors, Hall of Famers like Reggie Jackson and Goose Gossage and notables Ron Guidry, Tino Martinez, Lou Pinella and true legends like Yogi Berra earn cheers when they step on the practice and playing fields. Many teams have a retired player or two join the coaching staff for a week or two but none employ such a group as the Yankees.

Day 9 of 100 - November 25
If you think Florida Spring Training stadiums are just used for Major League Baseball players in February and March, you've got another thing coming.

Ed Smith Stadium, home of the Baltimore Orioles in Sarasota, will be hosting ICE ON THE DIAMOND -- A HOLIDAY CELEBRATION, December 20. The Orioles will present world-class skaters in a dazzling, holiday-themed show on a specially engineered ice stage on the ballpark's main field.

Local trick-or-treaters visited McKechnie and Bright House Field for Halloween for their holiday festivities. The McKechnie Field event, Trunk or Treat, allowed children to receive candy from Halloween-themed vehicles and enjoy other activities including hayrides around the ballpark, inflatables, a DJ, and a haunted locker room. The Clearwater Threshers hosted the 10th Annual Boo Bash Halloween event consisting of more than 30 candy stations located on the ballpark's concourse. Included in the festivities are several carnival games, hayrides around the field, and a kids Costume Parade on the field.

When there's not baseball at Jet Blue Park, the Florida Knights, a youth soccer league uses six fields around the Park. JetBlue also houses the women's collegiate rugby championship and a Lacrosse tournament was also on the 2013 Calendar of Events.

Jupiter's Roger Dean Stadium continues to be a vital sponsor of numerous activities and promotions that support local charities and organizations. Some of Roger Dean Stadium's past community events include: Kids Fest, Education Day, Super Splash Recreation Day, Dog Days, Gator Night and Slammin' Saturdays.

Day 8 of 100 - November 24
The list of stars who trained in Florida during the early years included Lou Gehrig, Grover Cleveland, Joe DiMaggio, Ted Williams, Jackie Robinson, Stan Musial, Roberto Clemente and Mickey Mantle. No player did more to glorify Florida as a spring training mecca than Babe Ruth.
He was a magical draw for the Yankees in St. Petersburg, and his presence produced a ripple effect for ticket sales statewide. But springtime was also Ruth's playtime. While deep sea fishing he shot a shark with a .22 rifle and got lost on a boat in the Gulf of Mexico for six hours, prompting a Coast Guard search.
Day 7 of 100 - November 23
Hall of Famer Cap Anson was the only 19th century player to reach 3,000 hits and managed the Chicago White Stockings (now Cubs) through 1897. He was the first to venture south to have his players work more regularly out of doors than in a gym.
Chicago's first trip to the South was in 1885, and it went to three cities: Nashville, Chattanooga and Atlanta. A year later, Anson and his White Stockings, trained entirely at Hot Springs, Arkansas.
Prior to the 1886 trip to Hot Springs, Team President Albert Spalding claimed to have a vat that could "boil the whole nine at once." Meaning he could, "boil out the alcoholic microbes which have impregnated the systems of the men during the winter while away from me and Anson." From Howard Rosenberg's 2003 Cap Anson biography.

Day 6 of 100 - November 22
Stories like this, from ESPN.com in 2011, are common at Florida Spring Training Games.
Camaraderie is one of the best parts of attending spring training, said avid Pittsburgh Pirates fans Paul and Virginia Lukas, who are 79 and 74 respectively. The couple is from Washington, Penn., about 30 miles south of Pittsburgh, and have had season tickets to the Pirates spring training games in Bradenton for about eight years.

When they began vacationing in Bradenton, it started as a weeklong trip, then slowly turned into 10 days and then two weeks. Now the couple stays in Bradenton from January to April.

"The Pirates prompted us to come," Virginia said.

The two have developed a group of cohorts at the Pirates games they refer to as "fence friends." The fence friends are about 10-12 people, all from the Pittsburgh area. The friends all meet near the bullpen to talk baseball before every Pirates spring training game. They have become so close, they socialize outside of games. As Pennsylvania natives, Virginia and Paul also enjoy running into friends at spring training that they recognize from going to regular-season games at PNC Park in Pittsburgh.

Day 5 of 100 - November 21
In anticipation of the 2014 season, 10 teams have their full schedules posted and two have partial schedules. Hopefully, the final three will come in soon. Click on the "Teams" tab and click on your desired destination to find out if there is a schedule posted. The Boston Red Sox were addded to the mix today and begin with their annual exhibition against Northeastern and Boston University on February 25.
Day 4 of 100 - November 20
The World Champion Boston Red Sox have held SpringTraining in Florida for 76 years. Their first home was in Tampa for the 1919 season. They spent the 1928-29 seasons in Bradenton and the 1930-31 seasons in Pensacola. They spent the 1933-42 in Sarasota and returned in 1946 after travel restrictions were lifted due to World War II and stayed until 1958. After a period in Arizona, the Red Sox were in Winter Haven from 1966-92 before their move to Fort Myers in 1993.
Day 3 of 100 - November 19
While the Detroit Tigers begin their 78th season in Lakeland in 2014, the longest-standing relationship between a host city of Spring Training Baseball and Major League team, it marks the 49th season at Joker Marchant Stadium. The 49 years at Joker Marchant are the longest for any team in the same location in Florida. The Tigers are closely followed by the Pittsburgh Pirates, who begin their 46th year at Bradenton's McKechnie Field. Teams with 30 or more years in the same location are the Toronto Blue Jays, who begin their 38th year at Florida Auto Exchange Stadium in Dunedin, and the Houston Astros at Osceola County Stadium in Kissimmee for 30 years.
Day 2 of 100 - November 18
The first American League Club to begin training in Florida was the Philadelphia Athletics, who came to Jacksonville in 1903. The New York Giants and Washington Nationals were the first National League teams, setting up camps in the late 1800s. The manager at the time, Connie Mack, had been introduced to Florida's amiable baseball climate during his spring stints as a catcher with the Nationals. Mack was persuaded to move his A's in 1925 to Terry Park, Fort Myers. There they stayed for 11 consecutive springs.
Day 1 of 100 - November 17
The Chicago Cubs played the St. Louis Browns, at Coffee Pot Park, in Pinellas County during the spring of 1914, for the first game between two Major League teams in Florida. No date has been established, but Chicago won 3-2. The Cubs held their spring training in Tampa and the Browns trained in St. Pete. The Cubs took a boat across Tampa Bay for the game. Future Hall of Famers who may have played in that first game included Cubs catcher Roger Bresnahan and aging Browns shortstop Bobby Wallace. Also on the field that day was Browns player/manager Branch Rickey.